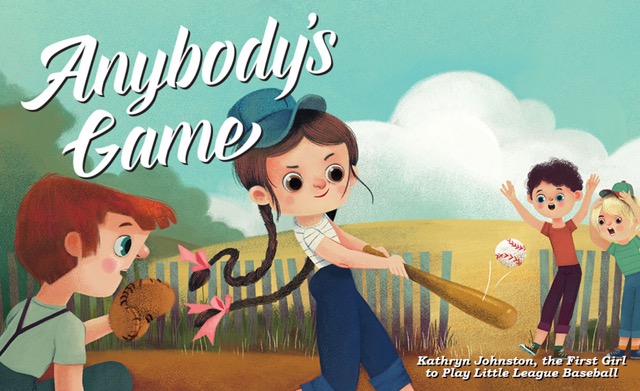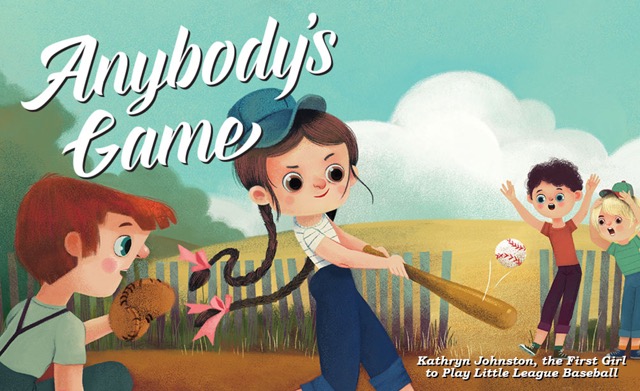 WELCOME!
Thanks for stopping by Heather Lang Books. I love to write children's books about real women who overcame extraordinary obstacles and never gave up on their dreams. I hope these women inspire you like they inspire me!
New From Heather Lang . . .
Anybody's Game
Kathryn Johnston, the First Girl to Play Little League Baseball
It was 1950. And girls did not play baseball.
Kathryn Johnston was better at baseball than most boys. All she wanted was to play for a real team, but Little League coaches wouldn't let girls try out. One day, when a new team held tryouts across town, Kathryn made a big decision . . .

Snip! She cut off her braids and went to the tryouts as a boy.
Discover the amazing true story of Kathryn "Tubby" Johnston, who stepped up to the plate and showed the world that some rules were meant to be broken.
Swimming with Sharks
The Daring Discoveries of Eugenie Clark
When Eugenie Clark pressed her face up against the shark tank, she didn't see vicious, bloodthirsty killers. She saw sleek, graceful fish gliding through the water. She longed to be on the bottom of the ocean—swimming with sharks.
In the 1930s few people dared to explore the depths of the sea, and none were women. But Genie wasn't afraid. Follow "the Shark Lady" as she uncovers the mysteries of the world's most feared fish!

Fearless Flyer
Ruth Law and Her Flying Machine
Join Ruth Law on her daring record-breaking flight!
On November 19, 1916 Ruth bundled up in four flying suits and a skirt, ready to make history. She planned to fly her little biplane from Chicago to New York City in one day. No one had done it before. Aviation experts thought the flight was doomed. Impossible! But that didn't stop Ruth. What Ruth Law did next amazed America.
Raul Colon is an award-winning illustrator of children's books.
Buy a signed copy of FEARLESS FLYER here!
Reviews
★ "Lang builds suspense with comparisons and questions . . . this title underscores the pilot's achievement and conveys her exhilaration."
—School Library Journal, starred review
★ "(A) magnificent, long overdue flight from history straight into the present."
—Booklist, starred review
"Lang keeps the focus on Law's determination, while a closing description of 'icicles dangl[ing] from her hair' is a visceral reminder of the daring of her feat."
—Publisher's Weekly
"Lang's portrait commemorates the centennial of Ruth Law's record-breaking flight from Chicago to New York….Effectively employing short, staccato phrases, Lang creates a riveting, "you are there" narrative…. Colón's rich compositions…use a primary palette of gold and charcoal brown, with layers of turquoise for water and sky….A well-crafted tribute to a fascinating aviation pioneer." —Kirkus Review